There are so many little pulloffs, pithouse stops and cliff dwellings at Mesa Verde, it can get a bit overwhelming. It's hard to know what to spend time on.
We visited Mesa Verde in early September and, unfortunately, some sites were already closed for the season (namely the entire Wetherill Road area), but there was still great stuff all along the Chapin Mesa.
Other than the Balcony House (which I think is probably a must-see but I can't say for sure since I haven't toured it in a while and we couldn't visit this time around), we literally stopped at every pulloff and saw every site that was open.
I've already posted photos from my other two favorite cliff dwellings at Mesa Verde – Cliff Palace & Spruce Tree House – but here's a list of the other things I'd recommend seeing or stopping off at.
1) Take Some Landscape Photos
While not necessarily picturesque, you can't help but notice the fire damage in the park. I can't remember which fire caused this destruction, but it was amazing how devastating and widespread the damage was from one of the fires at Mesa Verde. Huge swaths of land were burned, leaving only thousands of blackened tree skeletons. Burned or not, even these trees are photo worthy in their own way.
This particular image of a dead tree with a canyon in the background was taken at the Hemenway House pulloff. Good photo opportunities of the park are just about everywhere – just gotta keep your eyes open.
2) Pithouse stop along Mesa Top Loop
I'm pretty sure this is the first stop along the Mesa Top Loop Road. There are so many pithouses at Mesa Verde, but I liked this one because it seemed to have a lot of signs describing the site and its uses.
3) Navajo Canyon Overlook
Not far past the Pithouse stop above, the Navajo Canyon Overlook is a truly great 180-degree view of the canyon. It's a quick pulloff from on the Mesa Top Loop Road.
4) Far View Sites
This is a small cluster of communities near the Far View Visitor Center. They seem in decent shape and my favorite was the Coyote Village because you can walk all around it. So don't skip that one if you stop off here.
Rabbit brush is one of the most common shrubs you'll see in this part of Colorado. The lovely yellow bushes brighten up the landscape.
Kiva at Coyote Village.
5) Park Point Fire Lookout
Not too far from the park entrance is the Park Point Fire Tower & Lookout. Once you park your car, you'll have to walk up a hill to get to the two different lookouts. The two photos below were taken from the northern lookout point. The views of the surrounding area are pretty darn good.
Looking towards the north-northeast.
To Sum It Up
Everyone will get something different out of visiting Mesa Verde, but there's surely something for everyone here. The cliff dwellings are truly a unique and incredible testament to a human's ability to survive even in the strangest of places.
Map
Here's a map of where the Pithouse & Navajo Canyon Views are. Click on the image to go to the National Park Service's map.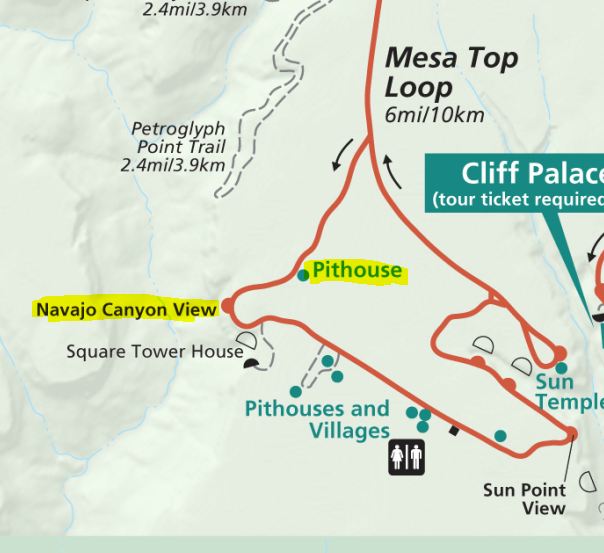 Here's a map of the Far View Sites & Park Point Overlook. Click on the map to go to the NPS's map.